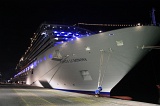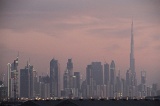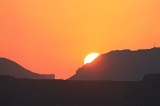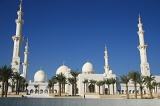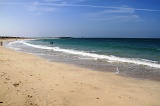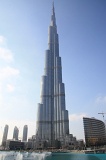 In questi itinerario troverete città in forte espansione con grattacieli da restare a bocca aperta, come il famoso Burj Dubai (attenzione al colpo della strega a guardare i quasi 900 metri di questo mostro) e il Burj Al Arab (il "vela", l'unico 7 stelle del mondo con suites da 780 mq).
Visiterete centri commerciali più grandi del mondo: il Dubai Mall, 1200 negozi, 2.000.000 di metri quadri con al suo interno un acquario gigantesco oppure il Mall of Emirates più piccolo ma con al suo interno... Una pista da sci con skilift, seggiovia, pista da slitta ecc...
Certo possono essere eccessi, ma credetemi, sono da vedere... pensate che stanno costruendo il parco divertimenti più grande al mondo: da solo può contenere tutti i parchi Disney del mondo messi assieme!!!
Ma appena si esce dalla città troviamo moschee da restare a bocca aperta e poi il deserto... con la sua atmosfera... bellissimo!
Un'osservazione su questi posti: pur essendo città gigantesche e piene di cantieri, sono ordinatissime (certo un pò caotiche) e pulitissime, specialmente Muscat in Oman dove abbiamo trovato nei viali principali della città, giardini con composizioni floreali curatissime, per scoprire poi che è la seconda città più pulita al mondo dopo Singapore...
Ma ora ecco il programma dettagliato della crociera "Le mille e una notte" che vi consigliamo
1° giorno - sabato 16/01/2010
Imbarco a Dubai (Emirates).
2° giorno - domenica 17/01/2010
Dubai (Emirates) partenza alle ore 13.00 per Muscat (Oman).
Navigazione e relax allo scoperta della bellissima Costa Luminosa!!!
3° giorno - lunedì 18/01/2010:
Arrivo a Muscat (Oman) alle ore 9.00 e partenza per Fujairah (Emirates) alle ore 19.00.
Escursione in jeep attraverso Muscat, tappa ad un forte e poi verso uno stretto canyon con pendenze da vertigine, escursione selvaggia ma allo stesso tempo un pò stancante.
4° giorno:
Arrivo a Fujairah (Emirates) alle ore 7.00 e partenza per Abu Dhabi (Emirates) alle ore 16.00.
Giornata di relax in una bella spiaggia di Fujairah dopo la stancata del giorno prima...
5° giorno:
Arrivo a Abu Dhabi (Emirates) alle ore 9.00 e partenza per Bahrain alle ore 18.00.
Mega escursione adrenalinica da fare ASSOLUTAMENTE!!! Si parte in jeep attraverso Abu Dhabi per arrivare fino al deserto con dune alte 300 metri da scavalcare, pranzo in un tipico bivacco nel deserto, sconsigliata ai deboli di cuore...
6° giorno:
Arrivo a Bahrain alle ore 9.00 e partenza per Dubai (Emirates) alle ore 18.00.
In Bahrain ci arrangiamo (anche perchè le escursioni erano prevalentemente basare sul Gp di Formula 1), quindi taxi, giro attraverso Bahrain City e relax in una spiaggia locale (niente di eccezionale).
7° giorno:
Arrivo a Dubai (Emirates) alle ore 13.00 e giornata libera.
In taxi verso la città (i taxi sono molto economici 10 euro per circa 25 km) ad ammirare il Dubai Mall, il Burj Dubai, il Souk dell'oro, il Mall of Emirates e il Burj al Arab (Vela).
8° giorno:
Dubai (Emirates) e alla sera partenza casa...
Altra giornata passata a girare tranquillamente per Dubai: Souk del pesce, Moschea di Jumeirah con la spiagga omonima...
Ripeto, bell'itinerario, diverso dai "soliti" caraibi, vario, romantico e non dimenticate c'è una grossa convenienza negli acquisti dell'elettronica e dell'oro!

Exposure time: 1/8s
Aperture: 9.0
Metering mode: Multi-segment
Focal length: 17.0mm
Camera make: Canon
Camera model: Canon EOS 450D


Exposure time: 1/40s
Aperture: 7.1
Metering mode: Multi-segment
Focal length: 120.0mm
Camera make: Canon
Camera model: Canon EOS 7D


Exposure time: 1/4s
Aperture: 4.0
Metering mode: Multi-segment
Focal length: 17.0mm
Camera make: Canon
Camera model: Canon EOS 450D


Exposure time: 1/25s
Aperture: 4.0
Metering mode: Multi-segment
Focal length: 17.0mm
Camera make: Canon
Camera model: Canon EOS 450D

Exposure time: 1/5s
Aperture: 4.0
Metering mode: Multi-segment
Focal length: 17.0mm
Camera make: Canon
Camera model: Canon EOS 450D


Exposure time: 1/100s
Aperture: 14.0
Metering mode: Multi-segment
Focal length: 30.0mm
Camera make: Canon
Camera model: Canon EOS 450D


Exposure time: 1/60s
Aperture: 14.0
Metering mode: Multi-segment
Focal length: 17.0mm
Camera make: Canon
Camera model: Canon EOS 450D


Exposure time: 1/50s
Aperture: 20.0
Metering mode: Multi-segment
Focal length: 17.0mm
Camera make: Canon
Camera model: Canon EOS 450D

Exposure time: 1/200s
Aperture: 13.0
Metering mode: Multi-segment
Focal length: 17.0mm
Camera make: Canon
Camera model: Canon EOS 450D

Exposure time: 1/30s
Aperture: 4.0
Metering mode: Multi-segment
Focal length: 17.0mm
Camera make: Canon
Camera model: Canon EOS 450D

Exposure time: 1/250s
Aperture: 9.0
Metering mode: Multi-segment
Focal length: 75.0mm
Camera make: Canon
Camera model: Canon EOS 450D

Exposure time: 1/200s
Aperture: 9.0
Metering mode: Multi-segment
Focal length: 33.0mm
Camera make: Canon
Camera model: Canon EOS 450D


Exposure time: 1/125s
Aperture: 11.0
Metering mode: Multi-segment
Focal length: 17.0mm
Camera make: Canon
Camera model: Canon EOS 450D

Exposure time: 1/100s
Aperture: 11.0
Metering mode: Multi-segment
Focal length: 22.0mm
Camera make: Canon
Camera model: Canon EOS 450D

Exposure time: 1/60s
Aperture: 11.0
Metering mode: Multi-segment
Focal length: 24.0mm
Camera make: Canon
Camera model: Canon EOS 450D

Exposure time: 1/125s
Aperture: 11.0
Metering mode: Multi-segment
Focal length: 85.0mm
Camera make: Canon
Camera model: Canon EOS 450D

Exposure time: 1/200s
Aperture: 11.0
Metering mode: Multi-segment
Focal length: 17.0mm
Camera make: Canon
Camera model: Canon EOS 450D

Exposure time: 1/250s
Aperture: 11.0
Metering mode: Multi-segment
Focal length: 24.0mm
Camera make: Canon
Camera model: Canon EOS 450D


Exposure time: 1/160s
Aperture: 7.1
Metering mode: Multi-segment
Focal length: 300.0mm
Camera make: Canon
Camera model: Canon EOS 450D


Exposure time: 1/15s
Aperture: 4.0
Metering mode: Multi-segment
Focal length: 17.0mm
Camera make: Canon
Camera model: Canon EOS 450D


Exposure time: 1/10s
Aperture: 4.0
Metering mode: Multi-segment
Focal length: 20.0mm
Camera make: Canon
Camera model: Canon EOS 450D


Exposure time: 1/4s
Aperture: 4.0
Metering mode: Multi-segment
Focal length: 17.0mm
Camera make: Canon
Camera model: Canon EOS 450D

Exposure time: 1/400s
Aperture: 9.0
Metering mode: Multi-segment
Focal length: 17.0mm
Camera make: Canon
Camera model: Canon EOS 450D


Exposure time: 1/200s
Aperture: 9.0
Metering mode: Multi-segment
Focal length: 41.0mm
Camera make: Canon
Camera model: Canon EOS 450D

Exposure time: 1/250s
Aperture: 9.0
Metering mode: Multi-segment
Focal length: 17.0mm
Camera make: Canon
Camera model: Canon EOS 450D

Exposure time: 1/200s
Aperture: 9.0
Metering mode: Multi-segment
Focal length: 33.0mm
Camera make: Canon
Camera model: Canon EOS 450D

Exposure time: 1/250s
Aperture: 8.0
Metering mode: Multi-segment
Focal length: 24.0mm
Camera make: Canon
Camera model: Canon EOS 450D


Exposure time: 1/400s
Aperture: 10.0
Metering mode: Multi-segment
Focal length: 26.0mm
Camera make: Canon
Camera model: Canon EOS 450D


Exposure time: 1/200s
Aperture: 10.0
Metering mode: Multi-segment
Focal length: 85.0mm
Camera make: Canon
Camera model: Canon EOS 450D


Exposure time: 1/400s
Aperture: 10.0
Metering mode: Multi-segment
Focal length: 17.0mm
Camera make: Canon
Camera model: Canon EOS 450D


Exposure time: 1/250s
Aperture: 14.0
Metering mode: Multi-segment
Focal length: 17.0mm
Camera make: Canon
Camera model: Canon EOS 450D

Exposure time: 1/125s
Aperture: 14.0
Metering mode: Multi-segment
Focal length: 59.0mm
Camera make: Canon
Camera model: Canon EOS 450D

Exposure time: 1/640s
Aperture: 8.0
Metering mode: Multi-segment
Focal length: 44.0mm
Camera make: Canon
Camera model: Canon EOS 450D


Exposure time: 1/500s
Aperture: 9.0
Metering mode: Multi-segment
Focal length: 300.0mm
Camera make: Canon
Camera model: Canon EOS 450D

Exposure time: 1/400s
Aperture: 9.0
Metering mode: Multi-segment
Focal length: 28.0mm
Camera make: Canon
Camera model: Canon EOS 450D


Exposure time: 1/250s
Aperture: 9.0
Metering mode: Multi-segment
Focal length: 85.0mm
Camera make: Canon
Camera model: Canon EOS 450D

Exposure time: 1/100s
Aperture: 7.1
Metering mode: Multi-segment
Focal length: 85.0mm
Camera make: Canon
Camera model: Canon EOS 450D

Exposure time: 1/160s
Aperture: 13.0
Metering mode: Multi-segment
Focal length: 64.0mm
Camera make: Canon
Camera model: Canon EOS 450D


Exposure time: 1/125s
Aperture: 13.0
Metering mode: Multi-segment
Focal length: 22.0mm
Camera make: Canon
Camera model: Canon EOS 450D

Exposure time: 1/800s
Aperture: 7.1
Metering mode: Multi-segment
Focal length: 59.0mm
Camera make: Canon
Camera model: Canon EOS 450D

Exposure time: 1/400s
Aperture: 11.0
Metering mode: Multi-segment
Focal length: 17.0mm
Camera make: Canon
Camera model: Canon EOS 450D

Exposure time: 1/125s
Aperture: 11.0
Metering mode: Multi-segment
Focal length: 33.0mm
Camera make: Canon
Camera model: Canon EOS 450D

Exposure time: 1/320s
Aperture: 11.0
Metering mode: Multi-segment
Focal length: 26.0mm
Camera make: Canon
Camera model: Canon EOS 450D

Exposure time: 1/250s
Aperture: 11.0
Metering mode: Multi-segment
Focal length: 85.0mm
Camera make: Canon
Camera model: Canon EOS 450D

Exposure time: 1/250s
Aperture: 11.0
Metering mode: Multi-segment
Focal length: 33.0mm
Camera make: Canon
Camera model: Canon EOS 450D

Exposure time: 1/400s
Aperture: 11.0
Metering mode: Multi-segment
Focal length: 17.0mm
Camera make: Canon
Camera model: Canon EOS 450D

Exposure time: 1/250s
Aperture: 11.0
Metering mode: Multi-segment
Focal length: 38.0mm
Camera make: Canon
Camera model: Canon EOS 450D

Exposure time: 1/320s
Aperture: 11.0
Metering mode: Multi-segment
Focal length: 59.0mm
Camera make: Canon
Camera model: Canon EOS 450D

Exposure time: 1/250s
Aperture: 9.0
Metering mode: Multi-segment
Focal length: 17.0mm
Camera make: Canon
Camera model: Canon EOS 450D

Exposure time: 1/60s
Aperture: 5.6
Metering mode: Multi-segment
Focal length: 20.0mm
Camera make: Canon
Camera model: Canon EOS 450D


Exposure time: 1/250s
Aperture: 13.0
Metering mode: Multi-segment
Focal length: 41.0mm
Camera make: Canon
Camera model: Canon EOS 450D

Exposure time: 1/200s
Aperture: 10.0
Metering mode: Multi-segment
Focal length: 41.0mm
Camera make: Canon
Camera model: Canon EOS 450D


Exposure time: 1/200s
Aperture: 6.3
Metering mode: Multi-segment
Focal length: 22.0mm
Camera make: Canon
Camera model: Canon EOS 450D


Exposure time: 1/500s
Aperture: 7.1
Metering mode: Multi-segment
Focal length: 85.0mm
Camera make: Canon
Camera model: Canon EOS 450D


Exposure time: 1/320s
Aperture: 7.1
Metering mode: Multi-segment
Focal length: 17.0mm
Camera make: Canon
Camera model: Canon EOS 450D

Exposure time: 1/13s
Aperture: 4.5
Metering mode: Multi-segment
Focal length: 28.0mm
Camera make: Canon
Camera model: Canon EOS 450D


Exposure time: 1/60s
Aperture: 5.0
Metering mode: Multi-segment
Focal length: 35.0mm
Camera make: Canon
Camera model: Canon EOS 450D

Exposure time: 1/125s
Aperture: 8.0
Metering mode: Multi-segment
Focal length: 30.0mm
Camera make: Canon
Camera model: Canon EOS 450D


Exposure time: 1/100s
Aperture: 11.0
Metering mode: Multi-segment
Focal length: 17.0mm
Camera make: Canon
Camera model: Canon EOS 450D

Exposure time: 1/400s
Aperture: 8.0
Metering mode: Multi-segment
Focal length: 17.0mm
Camera make: Canon
Camera model: Canon EOS 450D


Exposure time: 1/160s
Aperture: 8.0
Metering mode: Multi-segment
Focal length: 17.0mm
Camera make: Canon
Camera model: Canon EOS 450D

Exposure time: 1/400s
Aperture: 8.0
Metering mode: Multi-segment
Focal length: 30.0mm
Camera make: Canon
Camera model: Canon EOS 450D


Exposure time: 1/15s
Aperture: 4.0
Metering mode: Multi-segment
Focal length: 17.0mm
Camera make: Canon
Camera model: Canon EOS 450D


Exposure time: 1/15s
Aperture: 4.0
Metering mode: Multi-segment
Focal length: 17.0mm
Camera make: Canon
Camera model: Canon EOS 450D

Exposure time: 1/100s
Aperture: 11.0
Metering mode: Multi-segment
Focal length: 17.0mm
Camera make: Canon
Camera model: Canon EOS 450D


Exposure time: 1/80s
Aperture: 14.0
Metering mode: Multi-segment
Focal length: 17.0mm
Camera make: Canon
Camera model: Canon EOS 450D

Exposure time: 1/200s
Aperture: 10.0
Metering mode: Multi-segment
Focal length: 17.0mm
Camera make: Canon
Camera model: Canon EOS 450D

Exposure time: 1/8s
Aperture: 4.0
Metering mode: Multi-segment
Focal length: 17.0mm
Camera make: Canon
Camera model: Canon EOS 450D

Exposure time: 1/60s
Aperture: 4.0
Metering mode: Multi-segment
Focal length: 17.0mm
Camera make: Canon
Camera model: Canon EOS 450D


Exposure time: 1/60s
Aperture: 5.6
Metering mode: Multi-segment
Focal length: 66.0mm
Camera make: Canon
Camera model: Canon EOS 450D

Exposure time: 1/60s
Aperture: 5.6
Metering mode: Multi-segment
Focal length: 85.0mm
Camera make: Canon
Camera model: Canon EOS 450D

Exposure time: 1/10s
Aperture: 5.6
Metering mode: Multi-segment
Focal length: 17.0mm
Camera make: Canon
Camera model: Canon EOS 450D


Exposure time: 1/40s
Aperture: 5.6
Metering mode: Multi-segment
Focal length: 17.0mm
Camera make: Canon
Camera model: Canon EOS 450D

Exposure time: 1/400s
Aperture: 5.6
Metering mode: Multi-segment
Focal length: 17.0mm
Camera make: Canon
Camera model: Canon EOS 450D

Exposure time: 1/5s
Aperture: 5.0
Metering mode: Multi-segment
Focal length: 20.0mm
Camera make: Canon
Camera model: Canon EOS 450D


Exposure time: 1/4s
Aperture: 5.0
Metering mode: Multi-segment
Focal length: 17.0mm
Camera make: Canon
Camera model: Canon EOS 450D


Exposure time: 1/25s
Aperture: 5.0
Metering mode: Multi-segment
Focal length: 33.0mm
Camera make: Canon
Camera model: Canon EOS 450D


Exposure time: 1/30s
Aperture: 5.0
Metering mode: Multi-segment
Focal length: 17.0mm
Camera make: Canon
Camera model: Canon EOS 450D


Exposure time: 1/400s
Aperture: 9.0
Metering mode: Multi-segment
Focal length: 18.0mm
Camera make: Canon
Camera model: Canon EOS 7D


Exposure time: 1/100s
Aperture: 6.3
Metering mode: Multi-segment
Focal length: 75.0mm
Camera make: Canon
Camera model: Canon EOS 7D


Exposure time: 1/20s
Aperture: 6.3
Metering mode: Multi-segment
Focal length: 48.0mm
Camera make: Canon
Camera model: Canon EOS 7D